As a quick overview, here are the top three differences between Office 365 and Office 2019:
- Pricing: Office 365 is a monthly subscription model that can be paid annually whereas Office 2019 is a "one-time purchase".
- Apps/Updates: Office 365 enables access to the full Office apps in the latest versions/updates whereas Office 2019 only provides the features available at the time of purchase meaning no future updates to the applications will be included.
- Availability: Office 365 can be available in multiple devices with only one subscription and as long as you pay for the service whereas Office 2019 can only be purchased for a single device and it is a perpetual license.
Those are the three main differences between each licensing model. However, if you're planning to upgrade, or you're new to Microsoft Office, you might need more information to make a final decision.
This blog will give you an overview of Office 365 and Office 2019 as well as insights into Microsoft's shift in business model and why is this important to you.
The new model for Microsoft Productivity
Traditionally, to access Word, Excel, or PowerPoint, you needed to purchase a Microsoft license for only one device and with the set of features available at the time of purchase, this is essentially what Office 2019 offers.
However, with the proliferation of devices, plus a competitive market fueled by Gsuite, in 2011 Microsoft started to shift the way they package and market productivity software; moving from a "one-time purchase" to a "monthly subscription model", from offering device-specific software to a cloud-based version, also known as Software as a Service (SaaS).
The idea was to be able to provide end-users with a productivity experience across multiple devices with the latest updates rather than a lifetime license for one device with limited features.
It would seem like Office 365 is a better option, right? Then, why does Microsoft continue to position Office 2019? The short answer is that not every business is ready to deploy a cloud-based service.
Essential differences between Office 365 and Office 2019
The three main differences between Office 365 and Office 2019 are the pricing model, features, and availability. But there are other differences that are important to understand before making a decision.
Take a look at the chart here: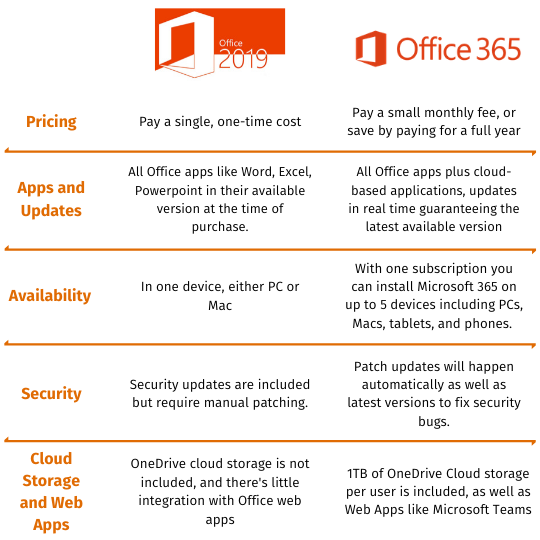 Security is perhaps one of the biggest concerns of SMB's and it's an important feature and difference between O365 and Office 2019.
If you aren't working with an IT service provider and decide to purchase Office 2019, be mindful that the security patches available will have to be manually configured. This means every now and then you'll need an IT expert that will help you make sure the software is up to date.
However, with an O365 license, not only are the security patches automatically installed, but the apps are also continuously updating to incorporate new security features.
Additionally, Office 365 includes collaboration software like Microsoft Teams, which increases communication and productivity in your workforce. Learn more about Teams in these blogs: Microsoft Teams tips every business should know, Indicators of a successful Microsoft Teams adoption.
Finally, when it comes to Microsoft support, Office 2019 is very limited as it only provides 5 years of mainstream support and approximately 2 years of extended support.
Although Microsoft has not stated whether Office 2019 will be the last on-premises version of Office, we do know that Microsoft currently has a cloud-first mentality, and it's turned most of its attention to cloud solutions like Office 365.
Bottom line: Which one is better Office 365 or Office 2019?
Ultimately, it'll depend on your requirements.
However, if you'll be using the apps for a long time, purchasing an Office 365 subscription is perhaps your best option, because you get full access to all the apps and perks with low cost of ownership.
When is Office 365 the right choice?
Office 365 is the modern workplace. If your organization encourages flexibility and remote work, as well as a strong collaboration through the use of chat, video, and voice conferences then this is the best option for your business.
Implementing an Office 365 environment can truly take your organization to the next level, leveraging the power of cloud-based technologies. It will not only offer your end-users the tools they need like Word, Excel, PowerPoint, and Outlook but it will provide endless updates to make sure they are making the most out of it; it will also give them the ability to use web-based technologies like Microsoft Teams and OneDrive (both included in the O365 license), and flexibility to work from any device they choose.
When is Office 2019 the right choice?
If you are thinking of purchasing a large volume of licenses, your workforce only uses basic Excel, Word, PowerPoint, and Outlook in a desktop, and you only use on-premise applications, then Office 2019 is the right choice.
Also, consider that unlike previous versions, Office 2019 is only supported on devices running Windows 10 or the three most recent versions of macOS. If you must use the most up-to-date version of Office, and you're still on Windows 8.1 or Windows 7, you have to purchase an Office 365 subscription.
If you are still struggling to make a decision or are simply confused by the new Microsoft 365 vs. O365 vs. Office 2019, our team is here to help!